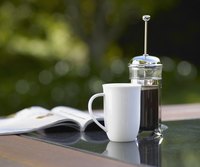 Coffee and tea are the main sources of caffeine around the world, but cocoa, yerba mate, kola nuts, guarana, some medications and beverages with added caffeine all contribute to caffeine intake, according to an article published in the Journal of Food Science in April 2010. Understanding the potential risks and benefits of consuming caffeine can help you decide the right amount of caffeine for you, if any.
Cognitive Function
People at risk for Alzheimer's disease may benefit from consuming an amount of caffeine equivalent to about 5 cups of coffee per day, according to a preliminary animal study published in the Journal of Alzheimer's Disease in 2010. This is more caffeine than the recommended limit of 4 cups per day.
Both naps and caffeine were equally effective in improving perceptual learning, or learning in response to stimuli, in a study published in Behavioral Brain Research in November 2008. However, caffeine didn't help with word recall and actually impaired motor learning.
The effects of caffeine on cognitive function also appear to vary based on how often you consume it. A study published in Psychopharmacology in June 2005 found that when habitual nonconsumers of caffeine consumed the substance, it had more of a benefit on cognitive performance than it did for habitual consumers.
Effect on Mood
Caffeine may have beneficial effects on mood in some people, but detrimental effects in others, according to an article published in the Journal of Alzheimer's Disease in 2010. A moderate amount of daily caffeine may lower risk of suicide and decrease depression symptoms. However, in some people high doses can cause manic symptoms, and in people with certain psychiatric disorders, such as panic disorder, it can make symptoms worse. These adverse effects on mood sometimes occur in children and adolescents. A study published in the Journal of School Health in August 2009 found that 5th and 10th graders who used caffeine often were more likely to be depressed than those who used caffeine less often.
Exercise Performance
The evidence for improvements in exercise performance is conflicting, according to a review article published in the Journal of Strength & Conditioning Research in January 2010. However, more than half of study results pointed to potential improvements in resistance training, power-based sports and team sports after consuming caffeine, with elite athletes who don't regularly consume caffeine exhibiting more beneficial effects than other athletes. A small study published in 2006 in the Journal of Sports Sciences found that trained cyclists who consumed caffeine before cycling showed improvements in power, speed and performance time.
Other Potential Benefits
The April 2010 Journal of Food Science review article notes that caffeine may be helpful for weight loss if you take into account the calories from caffeine-containing beverages, which means it could also lower your risk for metabolic syndrome. A preliminary study published in Movement Disorders in November 2011 found that caffeine helped improve motor function and sleepiness in some Parkinson's patients, although further, longer studies are needed to confirm these benefits.
Potential Risks and Recommended Limits
High caffeine consumption may cause sleep disturbances, anxiety, dehydration and headaches, according to a review article published in Nutrition Bulletin in March 2008, but between 38 milligrams and 400 milligrams per day of caffeine will maximize the benefits while minimizing the risks. This is no more than 4 cups of coffee per day. In Parkinson's patients, more than 100 to 200 milligrams of caffeine twice a day may increase adverse effects, including worsening tremors, anxiety and gastrointestinal discomfort, according to the Movement Disorders study.