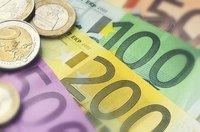 One of the original members of the European Union, Italy uses the euro as its legal currency. Italy's previous unit of money, the Italian lira, arose in Venice in 1472, according to the British Broadcasting Corporation. The change to the euro began on January 1, 1999, when the euro became the official "book" currency. On February 28, 2002, new euro coins and notes replaced the lira as circulating money.
Euro Coins
Euro coins come in eight denominations, including 1 and 2 euros and pieces worth 1, 2, 5, 10, 20 and 50 cents. Every country in the euro area produces its own coins. One side is the same everywhere, and one is unique to the country. In Italy, the national sides depict various works of Italian art and architecture, such as a Raphael's portrait of Dante Alighieri on the 2 euro coin and Marcus Aurelius on horseback on the 50 cent coin. Any euro coin is good in any Eurozone country.
Euro Banknotes
The euro notes are legal tender in Italy and everywhere in the Eurozone area, and they are the same in each country. The come in seven denominations, including 5, 10, 20, 50, 100, 200 and 500 euros. Each denomination has a distinct color. For example, the 5 euro note is gray, the 10 euro note is red and the 20 is blue. Each denomination also pictures a distinct European architectural style, such as classical, Gothic or Romanesque.