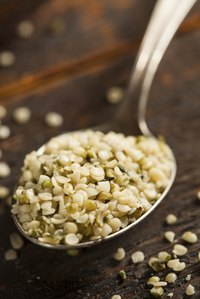 Hemp is a high-quality, nutritious protein source that offers benefits over traditional protein sources. It contains all of the essential amino acids, making it a complete protein, and it's rich in fiber and heart-healthy omega-3 fatty acids. Technically classified as a nut, hemp seed may even help keep your blood pressure healthy. It's available in various forms including powder, whole seeds, meal and hulled seeds.
High-Quality Protein
Hemp is a complete protein because it contains all essential amino acids in nutritionally significant amounts. The composition of hemp seed is about 25 percent protein, and scientists say its protein content is high in quality. In a study published in the November 2010 issue of the "Journal of Agricultural and Food Chemistry," researchers evaluated the quality of hemp protein based on digestibility analysis. They found that the quality of protein in hemp is higher than or equal to that in some nuts, legumes and grains.
Rich in Fiber
Hemp's fiber content is mostly insoluble, a type of fiber that helps keep your digestive system healthy. Insoluble fiber adds bulk to your stool, making it soft and easier to pass. It also acts as a broom, sweeping food through your digestive system, which helps keep you regular. A diet rich in insoluble fiber is beneficial to colon health and helps protect your colon against disease. You can find insoluble fiber in your diet in foods like beans, vegetables, flaxseed, whole wheat, barley, bran, couscous, brown rice and other whole grains.
Rich in Heart-Healthy Fat
Aside from its rich protein content, hemp seed is made up of 30 percent oil, and about 80 percent of its oil is composed of heart-healthy polyunsaturated fats. It's a rich source of alpha-linolenic acid, an omega-3 fat that's good for your heart, and linoleic acid, a polyunsaturated omega-6 fat. Both of these fats are essential to your health, but your body can't manufacture them on its own. The ratio of omega-6 to omega-3 fat in hemp is between two-to-one and three-to-one, better than the typical ratio in the American diet.
May Promote Healthy Blood Pressure
Hemp protein appears to have beneficial effects on blood pressure. A study published in the "European Journal of Nutrition" in August, 2014 evaluated the effects of hemp protein in animals with high blood pressure. Compared to casein, the main protein in cow milk, hemp protein significantly lowered systolic blood pressure and blocked the activity of an enzyme involved in raising blood pressure. While the results are encouraging, scientists must carry out further studies to know whether hemp protein has the same effect in humans.