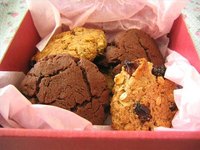 Oatmeal raisin cookies just sound healthier than other cookies because both oats and raisins are healthy, natural ingredients. However, you need to remember the other ingredients of oatmeal raisin cookies, namely butter and sugar.
Features
The ingredients of an oatmeal raisin cookie include butter, sugar, brown sugar, eggs, flour, vanilla, oats and raisins. Oatmeal cookies, like other cookies, contain large amounts of sugar and butter. While these ingredients can be enjoyed in moderation in a balanced diet, they do not have nutritional value. According to the USDA, people should limit their consumption of fats and processed sugars.
Benefits
Oats and raisins are considered healthy ingredients. One serving of oats contains 4 grams of fiber, which aids in proper digestion. Raisins are dried grapes and also contain dietary fiber, as well as calcium and small amounts of vitamin C.
Comparison
While oatmeal raisin cookies seem healthier than chocolate chip cookies, the truth is they are remarkably similar nutritionally. Oatmeal raisin cookies contain slightly more fiber and protein than chocolate chip cookies, but they also contain more overall calories and sugar.
Considerations
Store-bought oatmeal raisin cookies are traditionally made with large amounts of sugar and butter. Bake cookies at home to make them healthier. Use less butter and a sugar substitute to reduce calories. Add more raisins and oats to benefit from their nutritional value.
Expert Insight
As Tosca Reno, author of the book "The Eat Clean Diet for Family & Kids" was quoted in the July/August 2009 Clean Eating magazine saying, "A cookie, no matter how clean the ingredients, is still a cookie. It is meant to be a treat..."