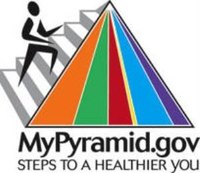 The basic food group pyramid includes foods the United States Department of Agriculture (USDA) deems necessary for healthy eating. USDA developed the first food guidelines in 1916. The 1940s brought the seven basic food groups, the 1950s brought the basic four groups, and 1992 brought the creation of the the first pyramid. The current pyramid came into being in 2005.
Fruits and Vegetables
Fruits in the red section of the basic food group pyramid include avocados, citrus fruits such as oranges and grapefruit, grapes, melons, apples, pears and berries of all types. Vegetables in the green section include asparagus, dried beans, dark green vegetables such as spinach and broccoli, tomatoes, squash, brightly colored bell peppers, carrots and mushrooms.
Grains
The orange section contains whole grains, including wheat, oats, barley, rice and cornmeal. Foods include oatmeal, cereals, pasta, tortillas, bread and Bulgar.
Meat and Beans
The purple section includes foods made from fish, poultry, eggs, dried beans and nuts. All meat products should be lean.
Milk
Milk foods in the blue section include calcium rich foods such as cheese, yogurt and milk, all with low or no fat. Lactose-free milk is in this group.
Oils
Oils in the yellow section include some fish (such as salmon), nuts, olives and avocados, mayonnaise (no trans fat) and canola, corn, safflower, soybean and olive oils.
Physical Activity
The newest pyramid shows a man walking up steps. This represents the physical activity people should do along with eating the foods in the pyramid.