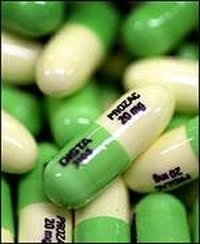 Depression and bipolar disorder are frequently managed with long-term treatment of an SSRI medication, including Fluoxetine (Prozac). Careful monitoring is recommended to ascertain any long-term side effects from treatment with this drug. Two cases were reported as occurring 6 and 10 years after chronic fluoxetine treatment in which patients experienced symptoms of restlessness, tension, agitation and sleep disturbances. When they stopped taking the drug, the symptoms stopped.
Long-Term Side Effects
The primary reason the drug is prescribed is for depression. It has now been determined that those who take the pills for longer than 2 weeks are susceptible to sleep problems, sexual problems and weight gain.

Reported Additional Side Effects
By 2009, 37,440 reports of different side effects have been studied. It has been reported that 104 (9.58 percent) cited problems with anxiety; 53 (4.88 percent), hypertension; 52 (4.79 percent), drug ineffectiveness; 52 (4.79 percent), suicidal ideation; 50 (50 (4.60 percent), fatigue; 50 (4.60 percent), dizziness; 49 (4.51%), headache; and 49 (4.51 percent), nausea.
Long Term Side Effects in Children
There exists only limited evidence concerning the long-term safety of fluoxetine in children and adolescents. The effects of the drug on growth (height and weight) and sexual, cognitive, emotional and behavioral development are unknown.
iGuard Risk Rating System Rating
iGuard is an independent organization that helps consumers determine which drugs are dangerous. In its risk-rating system, fluoxetine rates as a number 2 or blue rating and is considered "low risk," (see link in References).
NAMI Findings
The well-respected NAMI (National Alliance on Mental Illness) has taken a stand on fluoxetine: "To date, there are no known problems associated with long-term use of fluoxetine."