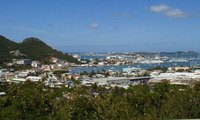 St. Maarten (also known as Sint Maarten) is part of the Netherlands Antilles and occupies the southern half of the island of St. Martin in the northeastern Caribbean at the edge of the Caribbean Sea and the Atlantic Ocean. The northern half of the island is comprised of St. Martin, which is part of France.
Geographic Location
The geographic coordinates of St. Maarten are 18 degrees 1 minute north latitude and 63 degrees 3 minutes west longitude. St. Maarten is approximately 300 km (186 miles) east of Puerto Rico, in the northeastern Caribbean's Leeward Islands, part of the Lesser Antilles. Nearby Caribbean islands include Anguilla, Saba, St. Eustatius, St. Barts, St. Kitts and Nevis, Barbuda and the Virgin Islands.
Physical Geography
St. Maarten is hilly, with the highest point being 486 meters (1,186 feet) on Pic Paradis. Many bays, beaches and lagoons line the island's coastal areas. The climate is tropical, affected by northeast trade winds, with an average annual temperature of 27 degrees Celsius (80 degrees Fahrenheit). The island is subject to tropical storms and hurricanes from June to November.
Population
The estimated population of St. Maarten in 2006 was 35,000. The estimated population of St. Martin (the French part of the island) in 2006 was 35,263.
Capital Cities
The two largest cities on the island are Philipsburg and Marigot. Philipsburg is the capital city of St. Maarten, the Dutch half of the island. Marigot is the capital of St. Martin, the French half of the island.
Transportation
The main international airport and travel gateway for the island is Princess Juliana International Airport, located in Dutch St. Maarten, on an isthmus in the southwest part of the island, west of Philipsburg. Philipsburg is also a popular port of call for cruise ships.