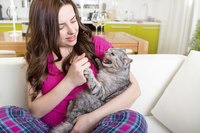 Cats have sharp, pointed teeth that can leave small, narrow but deep puncture wounds. All people and animals have bacteria in their mouths. When a cat bites, any bacteria in its mouth is injected into the wound, and the small puncture wounds make it difficult to get clean. According to Louisiana State University School of Veterinary Medicine, about 80 percent of untreated cat bites will become infected. By comparison, dog bites result in an infection rate of 18 percent or less. It is important to treat a cat bite immediately and to watch for signs of infection that will indicate a need for immediate treatment by a doctor.
Pain at the Site
One of the symptoms of a cat bite infection is pain. While it is normal for there to be some pain after an injury such as a cat bite, if an infection is present the pain will become more severe over time.
Redness Around the Wound
An infected cat bite wound will look red, not pink all around the injury. In addition, an infected wound will develop red streaks that spread out away from the bite. This is serious and requires immediate medical intervention.
Swelling and Pus
When a wound is infected, it typically will swell and look puffy. The swelling can be from body fluids such as lymph, pus or both. If a wound shows signs of pus, whether a buildup underneath the skin or oozing and drainage from the injury itself, it is a definite sign of infection. An abscess, which is a pocket of pus under the skin, may develop. Seek medical treatment.
Heat at the Site
If a cat bite is infected, it will feel hot to the touch, especially in the area directly over the original wound. In addition, an infection typically causes a fever. If a cat bite is present and the victim has a fever, suspect infection. If the infection continues to progress, the injured person may have a lowered body temperature, headache, low blood pressure or fatigue.
Treatment for a Cat Bite
Treatment for a cat bite usually involves washing the wound with soap and water, flushing as much of the dirt and bacteria from the injury as possible. Application of a topical antibiotic ointment may help to prevent an infection from taking hold. If the wound becomes infected, it may need to be drained and additional topical antibiotics applied until it heals. Additionally, a doctor may prescribe oral antibiotics to treat the infection. The type of antibiotics prescribed will depend on the specific organism causing the infection.
Pets Are at Risk, Too
Pets are also at risk for cat bite infections, and the symptoms are the same as those in humans. This is not uncommon if your cat is in a fight with another cat. Because their fur often hides the injury, animals may develop infections before the bite is discovered. An abscess or any other sign of fever or infection in an injured animal requires immediate veterinary care.