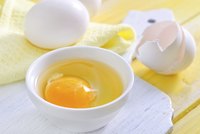 Egg whites are the perfect choice whether you want a fat-free option for omelets or you need a source of complete protein. They also have a place in a weight-loss plan because egg whites are low in calories, and their protein helps you feel full, reports the Harvard School of Public Health.
Very Low in Calories
You'll get significantly fewer calories when you eat the egg white rather than the whole egg. The white from one large egg only has 17 calories, which is easy to work into any diet if you're trying to lose or maintain weight.
As a general guideline, you need to use two egg whites to equal the volume of one large egg, but you could make scrambled eggs or an omelet using four egg whites and still consume slightly fewer calories than the 72 calories in one large egg.
Source of Complete Protein
A little more than half of the egg's total protein resides in the egg white. One large egg white has about 4 grams of protein, which provides 7 percent of the daily value based on consuming 2,000 calories daily.
Egg whites contain complete protein, so you'll get all of the amino acids needed to build muscles and sustain a healthy body. In fact, they provide the same quality protein as milk casein and soy proteins, reported the "Journal of the International Society of Sports Nutrition" in September 2007.
Fat and Cholesterol Free
The yolk contains all of the egg's fat and cholesterol, so egg whites are naturally fat-free. The lack of fat can be a significant benefit considering the whole egg contains 5 grams of total fat, almost 2 grams of saturated fat and 186 milligrams of cholesterol.
Including egg whites on the menu leaves more leeway for the fats you'll get from the rest of your diet. Plan to get 20 percent to 35 percent of your total calories from fats, especially cholesterol-lowering unsaturated fats. Keep saturated fats under 10 percent of your daily calories, and limit cholesterol to less than 300 milligrams, recommends the publication Dietary Guidelines for Americans, 2010.
Nutrients for Antioxidants
Antioxidant benefits aren't often mentioned with egg whites, but one white provides 9 percent of the daily value of selenium. Selenium is used to make one of the most important antioxidant enzymes in your body, glutathione peroxidase.
Glutathione peroxidase helps prevent fats from breaking down, which may lower your risk for developing cardiovascular disease, according to a study in "PLoS One" in June 2012.
As an added benefit, one egg white also supplies 9 percent of the daily value of riboflavin. This B vitamin is also essential for the synthesis of glutathione peroxidase.
Tips for Egg Safety
Packaged egg white products are pasteurized to kill harmful bacteria, but egg whites from whole eggs can be contaminated with salmonella. Reduce your risk by keeping eggs refrigerated and by cooking them until the white is firm, recommends the Centers for Disease Control and Prevention.
If you're allergic to eggs, keep egg whites out of your diet. The proteins responsible for allergic reactions are primarily located in the whites, according to Food Allergy Research and Education.