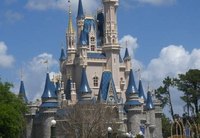 For many people, Walt Disney World conjures up images of oppressively hot weather, massive crowds and long lines for attractions or even a soda. And that's because that's exactly what many people experience -- that's what happens when you visit at peak times. But if you have enough flexibility to travel at any time of year, you can enjoy good weather, small crowds and even lower prices. You just need to know when to go.
First Two Weeks of December
For many Disney regulars, this is the single best time of year to visit Walt Disney World. The weather is mild, prices are low and crowds are small. The first two weeks of December are as pleasant as it gets, and you get the fun of all the holiday decorations without the crowds to match. Later in December, the crowds grow rapidly until Christmas week, when the parks often reach capacity and stop letting people in. If you do visit during this time and stay at a Disney hotel, Disney will generally guarantee you admission to a theme park, but you may not get to choose which park.
January-February
Once New Year's week is over, the crowds head home, and the parks are about as empty as they'll ever be. Except for the weeks featuring holidays (Martin Luther King Jr. Day and Presidents Day), this is a great time to go. Room rates are low, and there are times when you'll feel you have the parks practically to yourself. There are a couple of disadvantages, however. When crowds are this much lighter, Disney often cuts back on services. They're also more likely to close a ride for refurbishment during this time.
October
October is another time of year that generally features small crowds, low room rates and decent weather (although it can still get hot, especially toward the beginning of the month). Watch out for hurricanes, which can quite literally dampen your vacation fun. October also features the annual Food and Wine Festival at Epcot, a great event which often draws only moderate crowds. Try to avoid weekends around holidays that feature major school closings (Columbus Day and Yom Kippur, for example), as the parks may be more crowded then (if still not as mobbed as on those mid-summer days).
May
By May, Florida is getting hot. Really, really hot. Temperatures in May regularly approach or exceed 90 degrees. However, except for the week of Memorial Day, the crowds at Disney World can be moderate (although not as light as the other times of year), and the heat means you can take full advantage of Florida beaches and the water parks, something not possible (or as much fun) at cooler times of year.
Crowd Calendars
When planning your trip, consult a crowd calendar. The best is at TouringPlans.com, but you'll need to pay to see the full calendar. You may decide it's money well spent, however, if it can help you narrow down the best possible week during your vacation window. More basic crowd calendars and predictions are available online elsewhere, often for free.