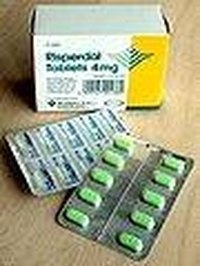 Risperdal is administered orally to children ranging from 5 to 17 years of age. It is used to treat symptoms of aggression, tantrums and rapid altering moods associated with autism and bipolar and schizophrenic disorders. Here is a list of possible side effects for children taking Risperdal.
Tardive Dyskinesia (TD)
TD is a serious side effect that affects the neurological system. It causes involuntary body and facial movements. Treatment is individualized and symptoms may remain after discontinuation of Risperdal. Symptoms may improve or disappear with time.
Extrapyramidal Symptoms (EPS)
EPS is an often rare group of side effects that may cause restless movement of the legs, trembling fingers or hands, shuffling gait, tight rigid muscles, or painful involuntary muscle cramps or spasms. EPS may cause symptoms of Tardive Dyskinesia.
Neuroleptic Malignant Syndrome (NMS)
Neuroleptic Malignant Syndrome (NMS) is a life-threatening condition with symptoms of muscular difficulty, confusion, pain, and changes in pulse, heart rate or blood pressure. Seek immediate medical attention if symptoms are experienced.
Hyperprolactinemia/Diabetes
Hyperprolactinemia is a condition associated with increased hormone levels, known as prolactin. Elevated levels of prolactin can affect the reproductive system. The long-term side effects of elevated prolactin levels are unknown. Risperdal can also raise blood sugar levels and may increase risk factors for diabetes. Symptoms of diabetes include excessive thirst, hunger fatigue/weakness and frequent urination.
Considerations
A family history of obesity, hypoglycemia or diabetes should be reported prior to taking Risperdal. Risperdal may increase the likelihood of diabetes.
Time Frame
Fatigue may last up to two weeks after treatment begins. Side effects associated with Risperdal should resolve once discontinued and treatment is sought. TD may continue to appear after discontinuation of Risperdal.