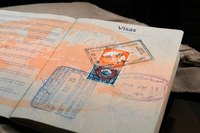 Depending on where you're from, you might not need a visa (or passport, for that matter) to enter Mexico. But getting back into your own country, or another country, may require one. To obtain such paperwork, you must visit the consular website of the Mexican Embassy in your home country for information on documentation needed for travel into Mexico.
United States Citizens
To enter Mexico, a U.S. citizen does not need to show even a passport. All that is required is any valid U.S. identification. But to re-enter the U.S., you'll have to meet certain requirements.
Individuals Who Don't Need Visas
Individuals from Andorra, Argentina, Australia, Austria, Belgium, Canada, Chile, Costa Rica, the Czech Republic, Denmark, Finland, France, Germany, Great Britain, Greece, Hungary, Ireland, Island, Israel, Italy, Japan, Liechtenstein, Luxembourg, Monaco, Netherlands, New Zealand, Norway, Poland, Portugal, Puerto Rico, San Marino, Singapore, Slovenia, Spain, South Korea, Sweden, Switzerland, Uruguay and/or Venezuela need not have a passport to gain entrance into Mexico. Instead, citizens from these countries must have the necessary tourist or business paperwork filled out and presented at Immigration and Customs upon entry into the country. These forms can be obtained at travel agencies, on board planes en route to Mexico, or from Immigration and Customs officials in Mexico.
Citizens Who Need Passports
If you're from a country not listed above, you must go to a Mexican embassy or consulate and request a visa. If you have friends in Mexico, you can have those friends contact the National Immigration Institute of Mexico. Requirements on paperwork and documentation for getting a visa differ by country.
Student Visas
If you are studying in Mexico, you must be able to prove that you are admitted to and able to financially support yourself as a student in a Mexican university. Requirements vary by country, so it's important to consult the Immigration Institute of Mexico or the Mexican consulate.
Business Visas
If you find yourself with a job offer in Mexico, you must prove to the Immigration Institute of Mexico that you have a job.