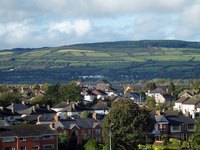 National or federal income tax rates often differ between businesses and individuals and may feature flat tax rates or a variable range of rates depending on income. A number of countries offer low income tax rates for both individuals and businesses.
U.S., U.K., and Australia
In order to compare, the rates of income tax reported in May 2009 for individuals in the United States, the United Kingdom, and Australia were 15 to 35 percent, 40 percent and 17 to 45 percent, respectively. For businesses, the U.S., U.K., and Australia assessed rates of 15 to 35 percent, 28 percent and 30 percent.
Lowest Flat Tax for Businesses
As of May 2009, Montenegro featured the lowest flat tax for businesses at 9 percent, with the next lowest being the nations of Bulgaria, Serbia, and Cyprus, each at 10 percent. Ireland, Latvia, and the nations of Hungary and Romania also offered low rates at 12.5 percent, 15 percent, and 16 percent, respectively.
Lowest Flat Tax for Individuals
In May 2009, the nation of Monaco had no income tax requirements for individuals, and the country with the lowest rate was Bulgaria, at 10 percent. Montenegro, Russia and the countries of the Czech Republic and the Ukraine also had low rates at 12, 13, and 15 percent, respectively.
Exemption for Low Income Individuals
In May 2009, several countries offered ranges for individual income tax that allowed the lowest tax bracket to be exempt from taxation. Among these countries were Gibraltar, Greece, Luxemburg, Mexico, Morocco, the Netherlands, New Zealand, Pakistan, Portugal, South Africa, Sweden, the United Kingdom and Zambia.
Low Individial Ranges
According to the May 2009 statistics, the countries with the lowest ranges for individual income taxes and their corresponding rates were Hong Kong, 2 to 17 percent; Egypt and Serbia, 10 to 20 percent; Brazil, 7.5 to 27.5 percent; and Singapore, 3.5 to 20 percent.