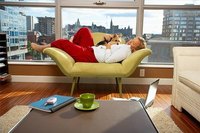 Sleep is one of our most valuable commodities. Operating in the red leaves you confused and inefficient in all things. A properly-timed nap can help you recharge and continue your day with renewed energy and purpose. Learn how to find the right nap length for your body.
Significance
Though many Americans are getting less than 8 hours of sleep per day, there is a solution. Sleep researchers have confirmed that a "power nap" of 20 to 30 minutes can improve memory, decrease heart disease risk and elevate your mood.

Considerations
To find the proper length of nap for your body, begin with a 30-minute nap. Each day, reduce the time of the nap by five minutes. Take notes on how well you feel when you wake. Choose the amount of time that leaves you feeling most refreshed.

Effects
The short time frame of a "power nap" (20 to 30 minutes) prevents the individual from entering REM sleep, which begins about 90 minutes after falling asleep. Waking in the middle of a REM cycle can result in the 'drugged' feeling that you may experience after a longer nap.
Benefits
Grogginess and drowsiness after napping usually recede in about 15 minutes. The increased energy and focus that results from properly timed napping lasts for several hours. It can be worth a few minutes of recovery time to enjoy the benefits of napping.
Expert Insight
Experts at the National Sleep Foundation recommend short naps (20 minutes or less) for both teenagers and shift workers, two groups who are typically sleep-deprived.