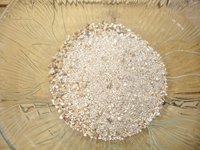 Rice bran oil has a light flavor and a high smoke point, which is ideal for preparing foods at high temperatures. Beyond its cooking merits, rice bran oil has heart-healthy unsaturated fats and retains other ingredients from the rice bran that offer health benefits. It also contains a form of vitamin E that is not abundant in most foods and a phytochemical called gamma-oryzanol.
Antioxidant Protection
As an antioxidant, vitamin E protects fats throughout your body from damage caused by reactive molecules called free radicals. It guards fats that are essential for building cells and maintains the integrity of structures called lipoproteins, which are made from fats and proteins and carry cholesterol through your bloodstream. If free radicals destroy lipoproteins, cholesterol is released that can stick to the walls of your arteries. One tablespoon of rice bran oil contains 4.4 milligrams of vitamin E, or nearly one-third of the recommended dietary allowance of 15 milligrams.
Cholesterol Reduction
One tablespoon of rice bran oil contains 13.6 grams of total fat, which includes 5.4 grams of monounsaturated fats and 5 grams of polyunsaturated fats. Both of these unsaturated fats reduce the amount of bad and total cholesterol in your bloodstream. Monounsaturated fats also boost the amount of good cholesterol, reports Colorado State University. Rice bran oil contains gamma-oryzanol, which supplies phytosterols that lower cholesterol by inhibiting the absorption of dietary cholesterol. Participants in a study all followed the same low-calorie diet, but only half of them took 30 grams of rice bran oil daily. At the end of four weeks, the rice bran oil group had significantly lowered their cholesterol compared with the other group, reported the "Journal of Research in Medical Sciences" in July 2012.
Bone Maintenance
Vitamin E exists in a variety of forms, which are categorized as tocopherols and tocotrienols. Most foods, including rice, contain tocopherols, but rice bran and its extracted oil are also good sources of tocotrienols. These substances may support your bones and lower the risk of osteoporosis, according to a review of studies published in October 2012 in "Evidence-Based Complementary and Alternative Medicine." However, more research is needed to verify the role of tocotrienols in maintaining healthy bones.
Serving Tips
Rice bran oil has a mild flavor that is light and subtle enough to replace other vegetable oils in almost every use, whether you're baking muffins, roasting vegetables or making a vinaigrette. However, it won't substitute well in dishes that need a specific flavor. For example, you may prefer the taste of olive oil in salad dressings, and Asian dishes need the authentic flavor of sesame oil. Rice bran oil has a higher smoking point than most other types of oils, so you can use it for cooking at high temperatures.