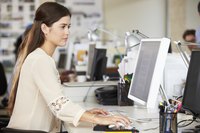 A knowledge management system blends technology with business data gathered by a company. The phrase "knowledge management" refers to the goal of gathering and organizing data and then using computer technology to convert it to useful information. Operators use software databases to gather and store data, and then the data is analyzed to make operational, strategic and marketing decisions.
Knowledge Management System Benefits
The purpose of a KMS is to ensure knowledge gained by one department or employee is captured and shared with the organization. This factor makes knowledge management especially critical in systematic organizations where each department relies on others for solution development or customer management. Businesses use KMS to manage workflow. In a sequential work process, each department or worker provides project status updates, which are shared with others as the project progresses. This process optimizes production efficiency.