Vitamin B-5, also called pantothenic acid, is a common ingredient in various skin treatment creams due to its skin-healing properties, and it's also taken orally as an acne treatment. Making sure you're getting enough vitamin B-5 from food, or supplements if needed, will help keep your skin nourished. Consult with your doctor before taking vitamin B-5 supplements if you're pregnant, breast-feeding or have hemophilia.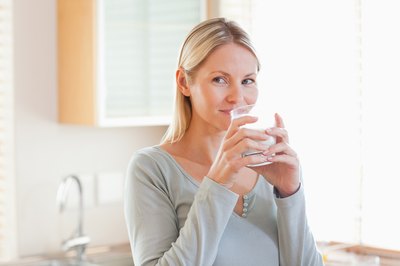 Vitamin B-5 Supplements for Acne
A study published in "Dermatology and Therapy" in 2014 found that vitamin B-5 reduces facial acne and inflammatory blemishes when taken orally, without adverse side effects. The study's participants had moderate levels of acne, and one group took the vitamin B-5 supplement for 12 weeks before having significantly reduced acne and blemishes compared to the placebo group.
Food Sources of Vitamin B-5
Adults over the age of 19 need at least 5 milligrams of vitamin B-5 daily. It's found abundantly in foods, which is why deficiency is uncommon and has typically only occurred in the case of malnutrition. Eat fresh vegetables like kale, broccoli, cauliflower and tomatoes for vitamin B-5. Beef organ meats contain especially high amounts of vitamin B-5, but poultry and seafood also have it. Other sources include eggs yolks, legumes and whole grains. If you're concerned about your B-5 intake or thinking about supplementation, discuss it with your doctor first.