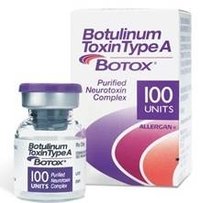 Botox is the registered trade name of Botulinum Toxin Type A, a drug produced by the global healthcare company, Allergan. Botox is approved for the treatment of 20 conditions in dozens of countries around the world. Serious conditions treated by Botox include cervical dystonia, belpharospasm, strabismus and severe primary axillary hyperhidrosis. The drug is being tested in the United States for treatment of chronic migraine, post-stroke spasticity and overactive bladder. It is most widely known in the United States for its cosmetic treatment of wrinkles as an alternative to plastic surgery.
Identification
Botox is made from botulinum toxin type A, which comes from the Clostridium botulinum bacterium--the same organism that causes the food poisoning known as botulism.
Types
Botox is produced from a purified protein of the Type A toxin, one of seven toxins produced by different strains of the bacterium.
Function
The U.S. Food and Drug Administration first approved Botox for the treatment of strabismus (also called "crossed eyes") in 1989.
Features
The drug was approved by the U.S. Food and Drug Administration for cosmetic treatment of frown lines and other wrinkles in 2002.
Effects
The neurotoxin in Botox works to reduce wrinkles by blocking the nerve impulses that cause excessive muscle contractions.