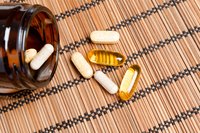 You need the mineral zinc for healing wounds, immune function, cell division and formation of proteins and DNA. Without zinc, you also wouldn't be able to smell or taste properly. This mineral is found in many foods, including oysters, crab, beef, lobster, pork, beans, chicken, yogurt, cashews, almonds and fortified breakfast cereals. Although there are some potential health benefits from taking zinc supplements, you shouldn't do so without first discussing it with your doctor to make sure it would be safe for you.
Treatment of Zinc Deficiency
Women need about 8 milligrams per day of zinc, and men need 11 milligrams. If you don't get enough zinc from your diet, supplements may be helpful for preventing or treating a zinc deficiency. This type of deficiency is most likely after severe diarrhea, long-term tube feeding or major surgery, or in alcoholics or people who have difficulty absorbing nutrients from food due to gastrointestinal conditions. Symptoms include hair loss, impotence, weight loss, taste abnormalities, skin and eye lesions, diarrhea, impaired immune function and mental lethargy.
Zinc picolinate, zinc acetate, zinc citrate, zinc monomethionine and zinc glycerate are better absorbed than the less expensive zinc sulfate, which also tends to cause more side effects, such as an upset stomach.
Improving Immune Function
You need zinc for the development and function of a variety of cells involved in immune function, including neutrophils, macrophages, T cells, B cells and natural killer cells. A study published in Biogerontology in October 2006 found that giving elderly people with low zinc levels supplemental zinc helped improve their immune function. This doesn't mean that supplemental zinc will be helpful for people with normal zinc levels, however.
Other Potential Benefits
Zinc supplementation may shorten the duration and lessen the severity of diarrhea in children with low zinc levels, help heal leg ulcers in people with low zinc levels and decrease the risk of age-related macular degeneration, according to the Office of Dietary Supplements. The evidence is still preliminary and conflicting, however, so further research is necessary to verify these benefits. Taking zinc supplements may also help limit the symptoms of Wilson's disease because it may decrease the absorption of copper.
Zinc lozenges taken within a day of getting a cold may help lessen both the severity of symptoms and the duration of the cold, according to a review article published in the Cochrane Database of Systematic Reviews in 2011. The lozenges stay in your mouth long enough that they come into contact with the cold virus, which isn't the case with pill forms of zinc supplements.
Things to Consider
Don't take zinc supplements if you have human immunodeficiency virus/AIDS or diabetes. If you take zinc supplements, MedlinePlus recommends zinc gluconate supplements because they are lower in cadmium than some other types of zinc supplements. Cadmium can increase the risk for liver problems.
Zinc supplements can cause diarrhea, vomiting, mouth sores, nausea, copper deficiency and an increase in prostate cancer risk. You can limit the gastrointestinal side effects if you take zinc with food. These supplements can also interfere with other medications, including diuretics, antibiotics, calcium, vitamin A, copper, iron, penicillamine, diabetes medications and the cancer medication cisplatin. Don't take zinc and chromium picolinate at the same time, as zinc and chromium compete for absorption.
Zinc can be toxic, so don't take more than the tolerable upper intake level of 40 milligrams per day. Toxicity symptoms include headaches, nausea, vomiting, abdominal cramps, loss of appetite, diarrhea, reduced immune function and low levels of high-density lipoprotein, the "good" cholesterol.