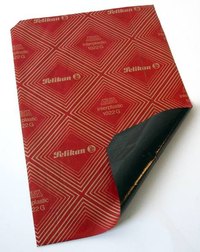 While carbon paper teeters on becoming obsolete, it used to be an essential part of an office worker's life in every industry. This seemingly boring artifact has an intriguing past.
History
English inventor Ralph Wedgewood patented the Stylographic Writer in 1806, a tool to help the blind write without using ink. An ink-soaked piece of paper was placed between two blank sheets, and a frame of horizontal wires acted as a guide for the blind writer's stylus. At approximately the same time, another inventor, Pellegrino Turri, was developing a practically identical technology.

Expansion
Carbon paper had limited uses because it required implementing a metal stylus to produce enough pressure to create a decent copy. This changed with the advent of the first commercially viable typewriter in 1873, when finally the exact quality of the original could be reproduced on the carbon pages beneath it. Office machinery was developed to expand the potential of carbon paper, the most popular being the Cyclostyle, introduced in 1880.
Decline
By the 1950s, the use of carbon paper had begun to decline. The introduction of no-carbon-required paper meant less mess and higher accuracy in duplication. Carbon copy would continue to be used for large-scale business needs such as shipping and receiving. However, it would be the digital age, the photocopier and the Internet that would finally be the death for carbon paper.
Time Frame
1806: Pellegrino Turri and Ralph Wedgewood invented a primitive form of handmade carbon copy paper for the blind.
1820: By this time, carbon paper was being mass produced but not widely used because of fears of forgery.
1823: Cyrus Dakin was making carbon paper in bulk by hand and selling it under an exclusive contract to the Associated Press.
1870: L.H. Rogers & Co. was formed and began selling mass-produced carbon paper to the U.S. War Department.
1872: The first Scholes and Glidden typewriter was manufactured.
1880: The stencil duplicator was introduced.
1954: Carbonless copy paper was developed by the National Cash Register Co.
1959: The first plain photocopier was introduced to the market by Xerox.
Fun Facts
Pellegrino Turri created carbon paper for his wife, who had gone blind from illness. He wanted a device she could use to duplicate her letters so she would not have to deal with the mess of a quill and ink and would not have to rewrite the same correspondences repeatedly for friends. The "CC" field used when sending emails to more than one recipient is a reference to carbon paper. It is an abbreviation for "carbon copy."