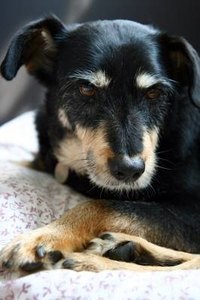 Heartworm disease is passed on to dogs through mosquito bites, as some mosquitoes are heartworm larvae carriers. The larvae mature, and the resulting worms live in the dog's heart, lungs and blood vessels, triggering dangerous health problems. Heartworm medication protects dogs from infection.
Types
There are three common types of heartworm medication: pills and tablets which are taken orally, topical liquids which are placing onto the dog, and injectable medications. All are available only by prescription.
Use
Before taking heartworm medication, a dog must be tested for infection. If it already has heartworms, preventative medication can be harmful or fatal. If the test is negative, the dog will be placed on medication. Although it is sometimes prescribed only during the warm months, many veterinarians recommend treating the dog year-round.
Geography
Heartworm used to be limited to the southern United States, but over the years it has spread and now affects dogs in every one of the continental 48 states.
Oral Side Effects
Oral heartworm medication in pill or tablet form can cause lethargy, diarrhea, lower appetite and vomiting. Normally these problems are minor and disappear over the course of treatment.
Topical Side Effects
Because topical liquids are placed onto the dog's body, they can irritate the skin or cause dermatitis. These will be resolved once you stop using the liquid.
Injectable Side Effects
The injectable medication, moxidectin, was temporarily removed from the market because it killed some dogs. According to the FDA, it is available again with a number of restrictions. Veterinarians who administer it are specially trained, and must explain the risks and get a signature on an informed consent form.