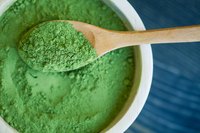 Seaweed is made up of a diverse group of microorganisms that are supplemented for a variety of purposes, including general nutrition. The three main groups of seaweed are brown, red and green algae, and each group consists of thousands of species. The most commonly supplemented seaweeds are kelp, spirulina and chlorella. These are available to supplement in capsule, powder and liquid form. Because of its high nutritional value, seaweed is also dried and eaten as food. Before taking seaweed supplements, get advice from your health care provider.
Kelp Is Rich in Iodine
Kelp belongs to the brown algae group and is known for its particularly rich iodine content. In fact, it's one of the richest sources of iodine, a trace mineral your body uses to produce thyroid hormones that play a crucial role in healthy metabolism. For this reason, kelp supplements are commonly marketed for supporting healthy thyroid function. Scientists caution people with thyroid conditions to avoid taking kelp supplements, according to a case report published in the June 2006 issue of the Journal of General Internal Medicine. In the report, a kelp tea supplement caused iodine-induced hyperthyroidism, which is when the thyroid produces too much hormone.
Spirulina Lowers Lipids
Spirulina belongs to the blue-green algae group and is nutritionally rich in antioxidants, carotenoids and protein. It also contains vitamins E and B complex and trace minerals zinc, copper, selenium and iron. Because of its nutrient profile, some people take spirulina as a general dietary supplement. In addition, spirulina is shown to lower cholesterol, according to a study published in the February 2014 issue of the Journal of the Science of Food and Agriculture. The researchers found spirulina significantly lowered triglycerides, total cholesterol and bad cholesterol in adults with mildly high cholesterol when taken for three months.
Chlorella Lowers Blood Pressure
Chlorella is a part of the green algae group and may offer multiple benefits, according to a review published in Alternative Therapies in Health and Medicine in 2001. Researchers evaluated double-blind, placebo-controlled trials to determine the potential benefits, particularly for chronic diseases. They found evidence that supplementing chlorella daily reduces blood pressure, lowers cholesterol, boosts immune function and improves quality of life in people with fibromyalgia, hypertension and ulcerative colitis. The authors asserted that more comprehensive trials are needed to fully evaluate the potential benefits of chlorella.
Seaweed as Vegetarian EPA and DHA Source
Seaweed is unique in that it offers a vegetarian source of EPA and DHA, two omega-3 fats responsible for the heart-health benefits of fish. Researchers evaluated algae-derived oil to determine if it had the same effect as standard fish oil. In this double-blind trial, adults with high triglycerides took either algal oil, fish oil or placebo every day for 14 days. Researchers found that algal oil lowered triglycerides to the same degree as a standard fish oil supplement, with no discernible difference between them. The study was published in the October 2014 issue of the journal Prostaglandins, Leukotrienes and Essential Fatty Acids.