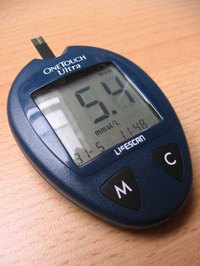 Insulin shock is another name for hypoglycemia, or low blood sugar. This condition occurs frequently in diabetic individuals who control their blood glucose levels with insulin and other medications. Insulin shock is rare in diabetics who are able to control blood sugar levels with diet and exercise alone.
Causes
Insulin shock can occur if you take too much insulin or other medication to lower blood sugar. Skipping meals, exercising too hard, consuming alcohol, vomiting and diarrhea can also cause insulin shock.
Misconceptions
Some people believe that insulin shock can be completely avoided through careful monitoring of blood sugar levels and medication. Unfortunately, insulin shock can sometimes occur even when proper diabetic treatment guidelines are being followed.
Symptoms
The symptoms of insulin shock include dizziness, sweating, headache, confusion, increased heart, paleness and weakness. People suffering from insulin shock may become moody, and experience anxiety and nervousness in addition to being shaky and unsteady. If not treated quickly enough, insulin shock can also cause loss of consciousness.
Treatment
If you suspect that you or someone around you is experiencing insulin shock, use a blood glucose meter to check blood sugar levels if at all possible. Give the individual 4 chewable glucose tablets, 5 pieces of hard candy, 1/2 cup of orange or other fruit juice, or 1/2 cup of soda. If the person is unconscious, call 911. Never attempt to get an unconscious person to eat or drink. If a doctor has prescribed it, administer a glucagon shot while waiting for emergency medical personnel.

Prevention/Solution
Know the signs of low blood sugar and always carry glucose tablets or candy with you so you can use them if you feel your sugar getting low.