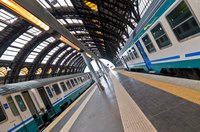 For its rail and bus network, Italy stands out as one of the easier countries in Europe to cover on public transport, while car lovers will discover a road system where home-produced Ferraris and Lamborghinis are meant to roam free. For an itinerary that links the major cities, there is little fault to find with Italian transport. Only when venturing off the beaten track are travelers faced with limited options.
National Rail
Italy's national rail system is one of the best in Europe, according to Frommer's, and arguably is the best option for travel between major cities since it is fast, comparatively cheap and easy to navigate. Trains range from high-speed intercity services, including the ultra-modern Eurostar from Milan to Naples, to regional and interregional services. For overnight journeys, you may reserve a cuccetta sleeping berth. Avoid the diretto and local trains if you don't want to stop at every station along the route. Be warned that you need to buy a ticket, make a reservation and must validate your ticket at the yellow machines in the station before boarding or risk incurring a fine. While Italian trains generally are punctual and clean, they can be crowded, especially on Friday evenings going in and out of the big cities or traveling toward the coast in August.
Regional Buses
For travel within a single region, such as Tuscany or Umbria, bus travel is the cheapest option and often the only way to get to the more remote towns. Since there is no national bus network, buses tend to be regional in organization. Typically, the town bus stop is in the main square, indicated by a large orange or yellow sign. Buy a ticket from a nearby vendor, which could be a tabacchi or bar, and validate the ticket on the bus, bearing in mind some tickets have a time limit for validation. Cities such as Rome, Naples and Milan have subway systems for getting around; otherwise, urban buses serve a particular city and suburban buses offer travel between cities. Tickets for the latter need to be reserved in advance, especially during the busy summer period, although there is a reduced service on Sundays.
Car Friendly
Traveling by car in Italy often is the only way to reach the quintessential rural villages that draw many tourists to the country in the first place, even if the roads can be winding and the signage frequently baffling. In addition, Frommer's warns Italy has some of the highest car rental and gas prices in Europe. That said, Italy offers some of the world's great drives, such as the Amalfi Coast's procession of pastel-colored villages perched on precipitous bluffs, while the Autostrade del Sole offers the chance to thunder straight down the country from Milan in the north to Calabaria in the south. Italy's road network spans high-speed autostrade highways, where tolls are payable, two-lane state roads and which numbers start with an "S" or "SS," and rural roads -- the most basic of which are unpaved and vary considerably in quality.
Island Ferries
Given Italy's considerable coastline, ferry transport is not as much a novelty as an everyday means of transport in some areas. Visit Venice, for example, and the vaporetti ferry is the only available mode of transport through the city, whereas overnight car ferries link the mainland with Sardinia and Sicily, with smaller ferries shuttling among the offshore islands. Ferry services depart from the major port cities such as Genoa, Livorno, Naples and Civitavecchia. The crossing from Civitavecchia to Cagliari in Sardinia, for example, takes roughly 13 hours. To get to Sicily, passengers either sail from Napoli in around 10 hours or take the 21-hour service from Genoa, with accommodation in a cabin.