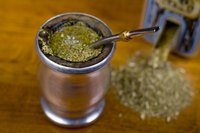 The thought of yerba maté may conjure up images of natives drinking out of a gourd through a metal straw in the jungle. Historically, South Americans roast the leaves of the native Ilex paraguariensis plant and brew them with water to make yerba maté tea. Today you'll find maté tea all over the world. Although the health benefits seem promising, there are potential risks to guzzling this trendy beverage.
Caffeine Jitters
You may experience rapid heart rate and trouble sleeping after consuming maté tea as a result of its caffeine content, according to Memorial Sloan Kettering Cancer Center. The beverage may also leave you with an upset stomach and feelings of anxiety. A cup of maté contains about 80 milligrams of caffeine -- somewhere between black tea and coffee, reports the Los Angeles Times website.
Breast Cancer
Exposure to polycyclic aromatic hydrocarbons -- PAHs -- may affect estrogen receptors and cause DNA damage, increasing your risk for breast cancer, according to the Breast Cancer Fund. As they are products of combustion, these chemicals are found in grilled meat, cigarettes and car exhaust. You might not expect to find them in your maté. Researchers reported dangerously high amounts of PAHs in yerba maté in a 2008 edition of "Cancer Epidemiology, Biomarkers & Prevention." Drinking 12 servings of maté may expose you to levels of PAHs equivalent to smoking 20 cigarettes, estimated the study authors.
Esophageal Cancer
The more maté you drink and the hotter it is, the higher your risk of developing cancer of the esophagus, suggests a 2009 article in the "International Journal of Cancer." Drinking very hot maté on a consistent basis may damage the lining of your esophagus, which normally acts as a barrier against swallowed carcinogens. This risky practice may also mutate normal cells into abnormal cancerous cells, according to the authors. The researchers did not attribute the same effects to drinking a lot of coffee or tea, but drinking any beverage at high temperatures increased esophageal cancer risk.
Safety Considerations
Limit your maté intake to avoid adverse effects. Avoid maté if you have high blood pressure, heart problems or anxiety, warns the Memorial Sloan Kettering Cancer Center. The tea can also interact with some medications, including anti-hypertensives, antidepressants or chemotherapy drugs. Drinking maté while pregnant may cause withdrawal symptoms in newborn infants.