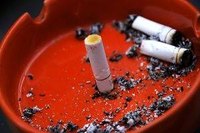 The nicotine patch is a smoking cessation aide that is applied directly to the skin. Continuous doses of nicotine are absorbed from the patch into your skin, with the goal of gradually reducing your cravings for a cigarette. The FDA has approved the sale of nicotine patches and determined they are safe for smokers to use while trying to quit. You may experience some of the following side effects while using the nicotine patch.
Headache and Nausea
Headaches and nausea are the most common side effects of the nicotine patch, especially during the first week of treatment. Fortunately, these side effects should taper off once your body adapts to the patch, according to the FDA.
Skin Redness
Your skin may look red after you remove the nicotine patch. In most cases, the redness will fade after one or two days. If it lasts longer than a few days, or pain develops, the FDA recommends visiting your doctor.
Tingling
FDA documents also reveal that your skin may tingle underneath the patch; this is normal and the tingling should subside within an hour. This side effect is especially common in the first three days of use.
Nicotine Overdose
In rare cases, too much nicotine may be absorbed by the body. This can cause symptoms including headache, blurry vision and weakness, according to the FDA. See your doctor right away if you suspect a nicotine overdose.
Long-Term Use
Using the nicotine patch for longer than 20 weeks is not known to cause any additional side effects, according to the Mayo Clinic.