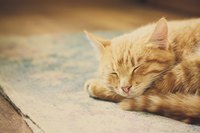 Applying topical Frontline to your cat each month should keep him free of fleas and ticks. Most cats tolerate the medication quite well, but adverse reactions can occur. Fortunately, most of them are not serious, but in rare cases a reaction requiring emergency veterinary treatment can occur. Although it's important to apply the correct dosage -- based on your cat's weight -- a small overdose is generally not cause for concern and doesn't cause an adverse reaction.
Topical Frontline
Available from your veterinarian or over-the-counter, topical Frontline consists of two active ingredients, fipronil and (S)-methoprene. These chemicals aren't absorbed by your cat's body after application. Instead, they stay in the animal's hair follicles, spreading over the body within 24 hours through skin oils in a process known as "translocation." If your cat has very dry skin, or has limited mobility, translocation can take longer. Because fipronil and (S)-methoprene don't enter the bloodstream, most cats won't experience serious side effects, unless they are allergic to the chemicals.
Site Irritation
Probably the most common feline adverse reaction to Frontline Plus is irritation at the application site. While this reaction is generally temporary, contact your vet if the irritation persists or worsens several days after application. It's normal for the application site to remain oily or wet for a day or so. More serious skin reactions include hair loss and redness.
Frontline Ingestion
It's important to follow the directions when applying Frontline to your cat. The product should be applied to the back of the neck, where Kitty can't lick it. However, if you have multiple cats in your household, it's possible that one cat will lick the application site of another feline. That might result in heavy drooling, or hypersalivation. If you suspect your cat has ingested Frontline, contact your veterinarian.
Rare Reactions
Rare, serious reactions are usually neurological in nature. The affected cat appears disoriented and might appear depressed or extremely nervous. Some cats might experience seizures. Vomiting after a Frontline dosage is another uncommon reaction. If your cats exhibits any of these reactions, call your veterinarian. Fortunately, these symptoms are generally temporary and the cat fully recovers.
Frontline Contraindications
Don't use Frontline Plus on kittens under the age of 8 weeks. If you cat is elderly, debilitated, or receiving medication, check with your vet to ensure Frontline Plus is appropriate for your pet. Let your vet know if you give your cat any over-the-counter supplements, as these can interact with pest control products. If your cat is pregnant or nursing, ask your vet whether she should receive Frontline Plus.