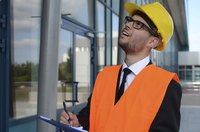 Regular inspections are common in the commercial real estate industry because building owners must ensure that all facilities meet the standards and regulations set forth by state and local governments. Many hire outside inspectors to conduct annual inspections, but conducting your own inspection for any violations prior to an official inspection can save money on re-inspection fees. An essential component to an inspection is the checklist.
Exterior Features
While the finer points vary by building type, the exterior section of an inspection checklist typically pertains to the condition of the structure and its surroundings. For example, are there any cracks in the walls and foundation, or damage to the windows and their casings? Are the paved surfaces in need of repair? Is the roof free of debris, damage and deformation? Are all stairs, handrails and landings in good condition? The checklist shouldn't just focus on the wear and tear of a building, however. It should also cover features like street accessibility, unrestricted exits, exterior lighting and visibility.
Interior Features
As with the exterior, the interior section of an inspection checklist pertains to the overall condition of the facility, such as the walls, floors, ceilings and lighting of all interior spaces. This section should also detail the systems needed to keep the building habitable, including electrical, heating, cooling and plumbing. For the electrical system, your checklist should determine whether the circuits are identified, the outlets are in working condition and the panels are secured. With heating, determine if is there is proper clearance for the equipment, if the furnace is free of combustibles and if the vents are clean. The same rules often apply to cooling systems.
Safety Systems
Along with the exterior and interior features, most inspection checklists also include a section for safety systems. For example, if the facility has a sprinkler system, the document should require inspectors to check whether the valves work properly, the control valve is accessible and the water supply is open. It should also focus on the condition of the fire extinguishers and emergency lights, as well as the visibility of "EXIT" signs and accessibility to evacuation exits. Also, the checklist should require the inspector to test the fire alarm system and emergency generator if one is equipped in the building.
Repair Recommendations
An inspection checklist wouldn't be of much use without an area to note recommendations for any repairs. Include space under each section or subsection to track where repairs are necessary, such as gutters that need cleaning, flashing that needs replacing or shingles missing along the southwest corner of the roof. This could also be used to recommend further inspections, such as for areas where water staining is present or areas to re-inspect when the weather changes.