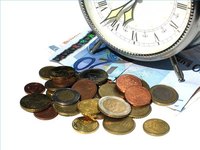 Have you ever felt there was not enough time in the day? If you do not manage your time effectively, it really wouldn't matter how much extra time was added. The ability to manage time effectively is an essential competency. Although some manage their time better than others, effective time management is something everyonel can learn.
Prioritize
Time management helps you determine your priorities. Knowing how to list tasks in order of importance will help you make the most of your time.
Get More Done
The better you manage your time, the more you can get done even with less time.
Less Stress
Managing your time can lower your stress level and keep you from feeling overwhelmed.
Career Advancement
Effective time management can affect the way you are perceived by others, which could lead to a promotion.
Combat Procrastination
If you are serious about managing your time effectively, how you feel about a particular task should not have a negative impact.
Quality Work
By managing your time effectively, you are freeing yourself to focus on the task at hand. By focusing on current tasks, you can increase the quality of your work.
Self Management
Time management and self management go hand in hand. If you set goals for yourself, you will need to manage time effectively to achieve them.