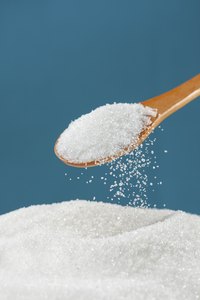 It starts out as sugar, but with a slight modification of its chemical structure, the sugar turns into sucralose, otherwise known as Splenda. This alteration creates a product that is much sweeter than sugar and nondigestible, making it a calorie- and carb-free food. Considered safe, Splenda has mostly positive effects on the body, but there are concerns about its effect on the gastrointestinal tract, along with reports of it causing migraines.
Aid in Weight Loss
If you're trying to lose weight and use sugar in coffee or tea, switching to Splenda may help you save a few calories. For example, you may save up to 100 calories using Splenda in your iced tea instead of drinking sweetened iced tea. Eating 100 fewer calories a day could help you lose 5 pounds over six months.
Some research has shown that artificial sweeteners may cause weight gain because they increase hunger, but a 2011 study published in Nutrition Research found that sucralose, in the short term, did not.

Blood Sugar Management
As a calorie- and carb-free sweetener, Splenda may also aid in blood sugar management, especially over the long term. This is most beneficial to people with diabetes.
A 2003 study published in the Journal of the American Dietetic Association investigated the effects of a high dose of sucralose -- three times the normal amount -- on blood sugar levels over a three-month period compared to a placebo in a group of people with type-2 diabetes. The study found no adverse effects on blood sugar or hemoglobin A1C levels, a long-term blood sugar test, in the group taking the sucralose compared to the placebo group; the study results indicate it therefore may be a good sugar substitute for people with diabetes.

Effect on Gut Bacteria
Splenda has been studied extensively for potential health drawbacks and, according to a 2011 article published in the Journal of Pharmacology and Pharmacotherapeutics, is considered a safe sugar substitute for everyone, even those with health problems.
A 2013 review article on sucralose published in the Journal of Toxicology and Environmental Health, however, found that sucralose may decrease the friendly bacteria found in your gut. The friendly bacteria in your gut are essential for digestive and immune health. It's important to note that this information is based on experimental studies conducted on rats.

Acute Migraines
Aspartame, also known as NutraSweet, is more commonly associated with migraines than is Splenda, according to a 2006 case report published in Headache: The Journal of Head and Face Pain. But this case report noted one patient who consistently experienced migraine headaches after eating foods containing Splenda. Talk to your doctor if you notice that certain foods, including those containing Splenda, cause headaches or other ailments so that you can determine the proper course of action.