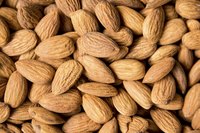 A fat-soluble vitamin, vitamin E functions as an antioxidant in the body. The two forms of vitamin E are known as tocopherols and tocotrienols. Alpha-tocopherol is the most common form and the only one actively maintained by your body. It is found naturally in certain foods, including olive, canola and sunflower oil, almonds, peanuts, spinach, carrots and avocado. Vitamin E is also available as a supplement in the form of soft gels, tablets or capsules and found in various skin care products. Although there are no harmful side effects from consuming foods with vitamin E, high doses in the supplement may cause serious side effects.
Recommended Dietary Allowance
The Food and Nutrition Board at the Institute of Medicine has set dietary recommendations for alpha-tocopherol based on age and gender. The RDA for both males and females over 14 years is 15 milligrams, or 22.4 international units. Women who are pregnant or lactating need 15 milligrams to 19 milligrams, respectively. The upper tolerable intake for vitamin E in the supplement form is 1,000 milligrams, or 1,500 international units; this includes vitamin E you get from foods and supplements. You should talk to your doctor before taking any supplements with vitamin E.
Risk for Excessive Bleeding
Vitamin E can inhibit blood clotting -- it prevents platelets, the blood cells that make clots, from aggregating and inhibits the activity of other clotting factors. If you are taking any anticoagulant medications while taking vitamin E supplements, this may increase your risk of bleeding. Long-term use of vitamin E supplementation above the upper limit should be discussed with your doctor due to the increased your risk of having a hemorrhage. Because of this danger, if you are taking a vitamin E supplement and plan to have elective surgery, talk with your doctor about discontinuing it prior to your surgery.
Possible Risk of Prostate Cancer
A large follow-up study from participants in a clinical trial published in an October 2011 issue of the Journal of the American Medical Association showed that men who consumed a daily supplement containing 400 international units of vitamin E over the course of three years were at a significantly increased risk for developing prostate cancer. Researchers concluded that long-term follow-up is still needed to determine if the increased risk of prostate cancer was associated with baseline blood levels of vitamin E and if there were any changes in genes that might raise a man's risk of developing prostate cancer.
Potential for Birth Defects
High maternal intake of vitamin E supplementation has been associated with an increased risk of developing congenital heart defects in infants. A study in the 2014 issue of Birth Defects Research Part A: Clinical and Molecular Teratology found a significant association between a high maternal intake of vitamin E and congenital heart defects. Other birth defects found in the study included anorectal atresia and hypospadias. Researchers concluded that further investigation is needed to observe the amount of vitamin E supplementation associated with the increased risk of developing these birth defects.