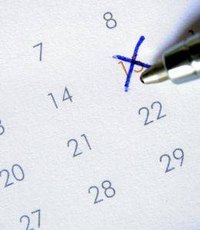 As women, we rely on our periods to come regularly every month. When a period is missed, we often expect the worst. The truth is that missing a menstrual period can be caused by several other reasons other than pregnancy. It's important to understand the effect that other situations in our life have on our menstrual cycle.
Birth Control
If you are taking certain birth control medications, they may cause your period not to come. Depo-Provera, Yasmin and other contraceptives will cause you to miss menstrual periods.
Stress
If you are under a lot of stress at home, work, or school, you may experience missed menstrual periods.
Illness
If you have been sick lately, your body may skip a few menstrual cycles. This is usually only temporary.
Weight
Being underweight or overweight can cause you to miss your menstrual cycle. This has to do with hormone production within the body.
Timing
While it is assumed that women get their period every 28 days, the truth is that every woman's cycle differs. You may think that you have a missed menstrual cycle when in fact your menstrual cycle is longer or shorter.
Menopause
Women who no longer ovulate or menstruate go through menopause. A missed period might signal menopause.
Pregnancy
If you have a missed menstrual cycle and you are sexually active, you may wan to take a pregnancy test to see if your missed menstrual cycle is a result of pregnancy. If you get a negative test result, you will want to make an appointment with your health care provider to find the cause of your missed period.