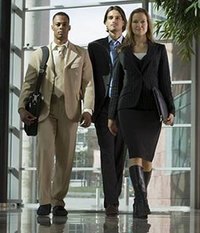 General partnerships are essentially a business relationship. Unlike a sole proprietorship, general partnerships consist of two or more people owning and running the business. General partnerships are ideal because the business can work as a team and does not financially stand on one individual's shoulder.
Trust
General partnerships are usually started with good friends or family. Starting up a new business is a huge risk and gigantic leap of faith. People who open up general partnerships need to trust each other and work well together.
Responsibility
Responsibility is a huge requirement of a business. General partnerships place the responsibility on more than one man or woman's shoulders. Sometimes this financial and personal responsibility saves the business, and other times it's the reason for its demise. That responsibility extends to liability, as each partner is jointly and individually liable for the obligations of the partnership.
Money
Even if the business does not need a lot of assets to start or operate, you still need a lot of money to open up a business. General partnerships allow more than one individual to carry the financial burden. This is ideal and makes a business much easier to open. But first you and your business partners must have the money.
Advantages
General partnerships are great for financing and people who do not wish to go along with the business alone. People who would rather work with a team and not by themselves find general partnerships highly desirable.
Disadvantages
General partnerships make it difficult for one partner to leave the agreement if he or she chooses. This is especially tough if the general partnership only has two partners and one wishes to leave. General partnerships also take away individual total control and decision-making, as a team must reach an agreement.