The average healthy man or post-menopausal woman needs approximately 8 milligrams of iron and 400 micrograms of folic acid, also known as folate, each day. A premenopausal woman should have 18 milligrams of iron daily and the same amount of folic acid as a man, except when she's pregnant or nursing, during which her requirement increases up to 600 micrograms per day. To reach your recommended intake, include plenty of iron- and folate-rich foods in your diet regularly. Ask your doctor or a dietitian for advice if you're having trouble getting enough of either nutrient.
Fill Up on Fortified Cereals
A 1-cup serving of some fortified ready-to-eat breakfast cereals may contain as much as 16 milligrams of iron and 405 micrograms of folate. That's 100 percent of the recommended daily allowance of folic acid for most adults as well as over 100 percent of a man's daily iron requirement and 89 percent of a woman's. To absorb the maximum amount of iron, eat the cereal along with a source of vitamin C, such as a glass of orange juice or fresh fruit like strawberries. Not all fortified cereals are created equal: Check the nutrition label for the exact amount of iron and folate per serving, and avoid cereals that are high in sugar and sodium and low in fiber.
Include Beans
Cooked black beans supply about 160 micrograms of folic acid per cup, or 40 percent of an adult's daily requirement. The beans are also a rich source of iron, with each cup containing 5 milligrams of the mineral, an amount that fulfills 62 percent of a man's iron needs and nearly 28 percent of a woman's. Soybeans, lentils and kidney beans are also excellent sources of both iron and folic acid. The form of iron found in beans and legumes, like all other plant-based foods, can be difficult for your body to absorb. Combine cooked beans with vitamin C -- a stew containing tomatoes, for instance -- or serve them with meat, fish or poultry to increase absorption.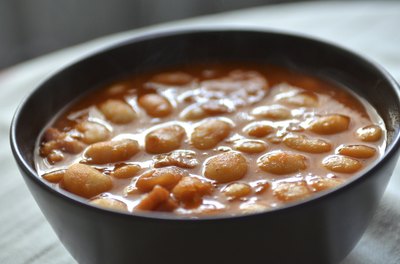 Enjoy Shellfish
The most easily absorbed form of iron is heme iron, the type found only in animal foods. Your best natural source of both heme iron and folic acid is found in shellfish, particularly those belonging to the mollusk family. A 3-ounce serving of wild Eastern oysters contains almost 8 milligrams of iron, filling a man's daily recommendation and supplying 44 percent of that for a woman. It is far less rich in folate, with only 12 micrograms per 3-ounce serving, or 3 percent of the amount an adult should have daily. Another mollusk, blue mussels, supplies 3 milligrams of iron and 36 micrograms of folic acid in every 3 ounces.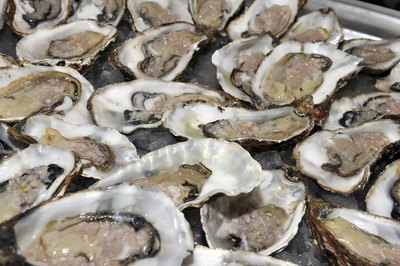 Plan Meals Rich in Both Nutrients
In a varied diet, you can consume adequate iron and folic acid by preparing meals that contain at least one high-iron and one high-folate component. For example, 1/2 cup of diced firm tofu stir-fried with 1/2 cup of cooked spinach, four spears of asparagus and eight large shrimp, then served on 1/2 cup of folic acid-fortified rice, yields a meal that contains over 4 milligrams of iron and 300 micrograms of folic acid. A salad containing shredded romaine lettuce and raw spinach topped with avocados, cooked white beans and canned light tuna fish is another option rich in both nutrients.