Breakfast eaters not only have any easier time managing their weight, but they also tend to have lower cholesterol numbers, according to the Academy of Nutrition and Dietetics. That may be because a number of breakfast foods also help lower your cholesterol.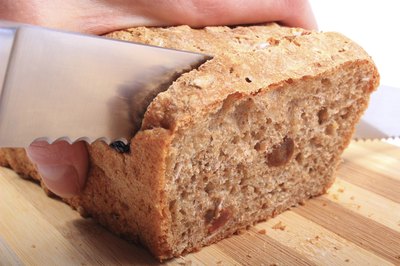 Cholesterol-Lowering Cereal
If you make the right choices, cereal is an easy breakfast meal that's good for you, too. Soluble fiber in cereals such as oatmeal, oat bran and oat-containing cold cereal grabs a hold of the cholesterol in your digestive tract, which helps prevent you from absorbing it before it gets eliminated from your body.
Cook up a bowl of steel-cut oats and add fruit for more fiber and a natural touch of sweetness. If making a bowl of cold cereal, use nonfat milk to limit saturated fat intake, which is the type of fat that raises cholesterol levels.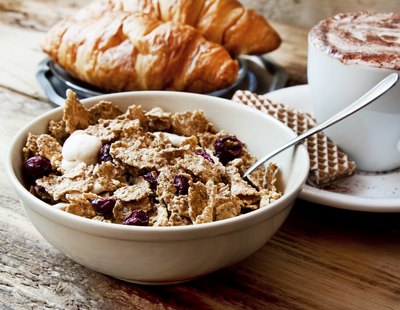 Fruits and Fiber
Apples, strawberries, grapes and citrus fruit such as oranges and grapefruit are also good sources of soluble fiber. These fruits make good cereal toppers as well as delicious high-fiber smoothies.
Blend together a container of plain nonfat Greek yogurt with strawberries, bananas, peanut butter and ice for a quick cholesterol-lowering breakfast meal. You can also slice these fruits into a salad and enjoy them with a container of nonfat yogurt or whole-wheat toast.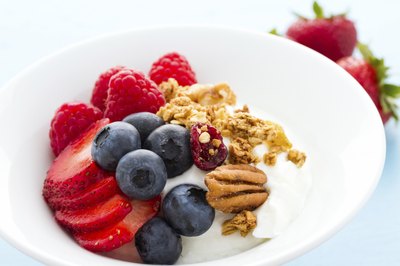 Go Nuts
Eating a handful of nuts, which is about 1.5 ounces, helps lower cholesterol levels, according to MayoClinic.org. Healthy options include almonds, pecans, peanuts and pistachio nuts. Walnuts are also a source of omega-3 fats, similar to the fats found in fatty fish, which are good for your heart and blood vessels.
You can add chopped nuts to your hot cereal or spread your favorite nut butter onto whole-wheat toast to get the cholesterol-lowering benefits. A handful of nuts with dried fruit and a cup of nonfat milk also makes a good on-the-go breakfast meal.
A Look at Eggs
Eggs are high in cholesterol, but it's not the cholesterol in the egg that's bad for you, according to the Harvard School of Public Health. However, while it's OK for healthy people to eat an egg every day, if you have high cholesterol, HSPH suggests you eat the egg whites and not the yolks.
To enjoy eggs on your cholesterol-lowering diet, fill an egg-white omelet with beans -- another cholesterol-lowering food -- and salsa. Or scramble an egg white and put it between a whole-wheat English muffin with slices of tomato, peppers and avocado for a heart-healthy, on-the-go breakfast sandwich.