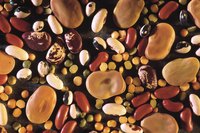 Many Americans don't get enough iron in their diets. Low fiber intake is even more common -- approximately 95 percent of Americans fall short of the recommended daily intake recommended for adults, reports "Today's Dietitian." Animal foods contain iron but no fiber; a diet rich in plant-based foods can provide both. The nonheme form of iron contained in plant foods, however, is not as easily absorbed as the heme form found in animal foods. To get plenty of iron along with fiber from a plant product, eat it with meat, poultry or seafood or with a food that's high in vitamin C.
Eat a Variety of Beans and Legumes
Beans and legumes are the richest naturally occurring source of both iron and fiber. A 1-cup serving of cooked black beans contains over 5 milligrams of iron and 15 grams of fiber. For a man between 31 and 50 years old, that would supply 62 percent of his daily requirement of iron and almost 50 percent of his fiber recommendation. For a woman of the same age, 1 cup of black beans would fulfill 28 percent of her iron needs per day and 60 percent of her fiber. Other options high in both fiber and iron include black-eyed peas, lima beans and edamame. Serve beans as a side dish for grilled lean beef or poultry or in a stew containing tomatoes to increase your body's ability to absorb the iron.
Fill Up on Fruits and Vegetables
While most fruits contain fiber but little iron, passion fruit is an exception. Each cup of fresh passion fruit supplies nearly 4 milligrams of iron -- 50 percent of a man's recommended daily allowance and 22 percent of a woman's -- along with approximately 25 grams of fiber, an amount that's more than the average American consumes in a day, according to the Harvard School of Public Health. Dried currants contain 10 grams of fiber and 5 milligrams of iron. Dark green leafy vegetables, such as turnip greens, are also a source of both nutrients. Cooked turnip greens have about 6 grams of fiber and 3 milligrams of iron per cup.
Pick Certain Cereals
Some fortified breakfast cereals can contain as much as 5 milligrams of iron and 11 grams of fiber in a serving, which is typically 3/4 or 1 cup. If you're depending on ready-to-eat cereals as a regular iron source, check the nutrition label to be sure of the content -- not all cereals are fortified with iron, and the amount per serving varies -- and eat the cereal at the same time as fruit or 100-percent fruit juice that contains a high concentration of vitamin C. A few whole grains like teff and quinoa are natural sources of iron along with fiber. Cooked teff has 7 grams of fiber and 5 milligrams of iron per cup, while 1 cup of cooked quinoa contains 5 grams of fiber and 3 milligrams of iron.
Snack on Seeds and Nuts
Although their serving size is small -- 1 ounce for most types -- seeds and nuts pack in enough iron and fiber to help you reach your requirement of both nutrients. Toasted, unsalted sunflower seeds supply 3 grams of fiber and 2 milligrams of iron in 1 ounce. Each ounce of dry-roasted almonds contains 3 grams of fiber and about 1 milligram of iron. Peanuts, hazelnuts and roasted pumpkin seeds can also increase your intake of iron and fiber. Use them in baked goods, salads, rice or grain pilafs, cold or cooked cereals and as snacks for a boost of nutrition.