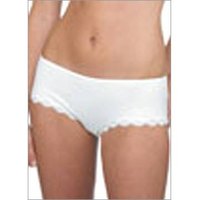 Herpes Simplex 2 is considered a sexually transmitted disease and affects the genitalia of both men and women. Women, however, are four times as likely as men to contract this disease because the surface area of their genital area contains a greater surface of cells that are moist with body fluids, making the disease more easily acquired and transmitted. In addition, the hormonal changes during their menstrual cycle weakens their immune systems, which makes it easier for the herpes virus to develop into an infection.
Significance
The symptoms of herpes can often be misdiagnosed in a woman due to the fact that they are located in the vaginal area and can be mistaken for a yeast infection, pelvic inflammatory disease or cervicitis. Once any symptoms appear, it is important to be seen and diagnosed by your doctor.
Time Frame
After a woman has been exposed to the herpes virus, symptoms can appear within 2 to 20 days. The first outbreak of symptoms for women generally lasts for about 3 weeks.
Symptoms
Blisters will appear inside the vagina and the vulva, the lymph glands will swell in the groin and a fever and muscle aches may occur, as well as lower back pain. In addition, she might experience vaginal discharge and pain upon urination.
Outbreaks
Eighty percent of those who experience symptoms with their first outbreak will experience recurring outbreaks. However the symptoms of these outbreaks will not be as severe or last as long as the first.
Symptoms of a Recurring Outbreak
Before a recurring outbreak, most women will experience symptoms or warning signs that will let them know the outbreak is near. They will usually have pain or discomfort in the infected area before the sores appear.
Warning
Even if you are not experiencing any symptoms at the time, you are still carrying the virus and are still contagious. This means that you are capable of passing the virus on to your partner, so practice safe sex to stop the spread of herpes.