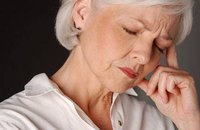 The gallbladder is a small organ that aids in the digestion of food. It stores bile from the liver and releases it into the small intestine. The intestine uses the bile to break down fat from the food. Gallbladder disease is more likely to occur in women than in men.
Identification
The gallbladder is a pear-shaped organ located up against the liver. It is positioned under the right rib cage.
Causes
The causes of gallbladder disease in women are related to excess estrogen from pregnancy, hormone-replacement therapy and birth-control pills. These conditions increase cholesterol levels in the bile.
Diets
Crash diets cause the liver to secrete extra cholesterol into the bile. The extra cholesterol can cause gallstones.
Initial Symptoms
The symptoms for gallbladder disease are similar in men and women. Women might experience more gas and discomfort, as well as more bloating.
Pain
Pain from gallbladder disease begins under the rib cage. Women will feel a dull ache that does not go away. The pain might move from the rib cage to the right shoulder blade.