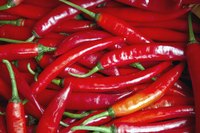 Need an easy way to add a feisty flavor and nutritional value to your meals? Try cayenne pepper. Derived from hot red pepper, cayenne adds phytonutrients and vitamins to your meals, along with lots of heat. Use it in your cooking in place of salt, and you'll also lower your sodium intake -- a bonus if you need to follow a low-salt diet.
A Healthy Dose of Heat
Capsaicin -- the chemical responsible for cayenne's powerful heat -- also accounts for some of its many health benefits. Fiery meals help you eat fewer calories, reports a review paper published in Appetite in February 2014. The review compiled the results from 74 clinical trials and found that capsaicin naturally reduced study participants' food intake by an average of 300 calories. However, the review authors note that the studies on the weight-loss benefits of cayenne are all short-term studies, so longer-term examinations are needed. While cayenne might help reduce your caloric intake, you'll still need a balanced diet and exercise program for long-term success.
Immune-Boosting Vitamin A
Despite its small serving size, cayenne packs a powerful punch when it comes to vitamin A. One teaspoon offers 750 international units -- that's one-third of the daily vitamin A needs for women and one-quarter of the needs for men. Vitamin A maintains immune health by supporting white blood cell production -- a continuous process needed for immune function -- and by nourishing your skin. You might not think of your skin as key to immune health, but it's an essential barrier that keeps harmful pathogens out. People with low vitamin A are more vulnerable to infections, and A-rich foods, such as cayenne, can prevent a deficiency.
Eye-Friendly Carotenoids
Cook with cayenne, and you'll boost your intake of carotenoids -- a family of nutrients that offer health benefits, including support for your eyes. Beta carotene, a carotenoid your body converts to vitamin A, plays a key role in healthy vision, especially at night. Lutein and zeaxanthin -- two other carotenoids -- protect the inner tissues of your eyes from harmful light rays, and consuming them might reduce your risk of age-related macular degeneration. A teaspoon of cayenne offers 237 micrograms of combined lutein and zeaxanthin.
Adding Cayenne to Your Meals
Because it's used in such small amounts, cayenne won't significantly change the flavor of your meal, except to give it some heat. Add a sprinkling of cayenne to scrambled eggs as they cook to give your day a fiery start -- its spiciness pairs especially well with a mixture of tomatoes, onions and green peppers. Infuse salad greens with a little kick by adding a pinch of cayenne to your favorite salad dressing, or add cayenne to your braising liquid for fiery chicken breast, sole or veggies. Add heat into your drinks for a little boost throughout the day -- cayenne works well as an addition to lemon water or coconut water.