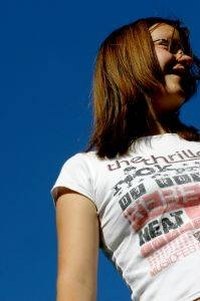 Once children become teenagers, their hormones fluctuate--and for some, so does their weight. Keeping up with the demands of busy teens--whether it be sports or the glee club--means knowing that their exercise level fluctuates. Keeping them fueled with well rounded snacks will fight bulge and maintain long lasting energy.
Breakfast
Quick oats oatmeal is a wholesome way to get a serving of whole wheat. Serve 1/2 cup of oats with 1/4 cup of skim milk, half an orange and 4 oz. of 100 percent fruit juice.
Mid-morning Snack
Teens can grab a low fat mozzarella cheese stick and a granny smith apple--perfect for on-the-go eating.
Lunch
Low carb pita filled with 1/4 cup of lettuce, tuna made with low fat salad dressing and 10 grapes. Add a 90-calorie tapioca pudding and a bottled water.
Afternoon Snack
Keep the energy level up with four 2-inch celery sticks filled with low-fat peanut butter sprinkled with 15 raisins. A low calorie electrolyte drink such as G2 from Gatorade will replenish lost fluids.
Dinner
A 6-oz. cooked lean chicken breast, 1/2 cup of steamed broccoli, lettuce with low fat ranch and 1/4 cup of sugar-free jello--serve with 4 oz. of low fat chocolate milk.
Evening Snack
For bedtime, serve 1/4 cup of light trail mix with almonds, dried apricots and sunflower seeds.