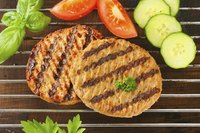 Vitamin B-1, also known as thiamin, supports the immune and nervous systems and is necessary for the production of adenosine triphosphate, your cells' main source of energy. Vitamin B-12 aids in the production of red blood cells, DNA and RNA and lowers your level of homocysteine, an amino acid that, in high concentrations, is linked to an increased risk of heart disease. Vitamin B-1 and B-12 can only naturally occur together in animal products, but some plant-based foods are fortified with vitamin B-12 and supply both.
Look for Fortified Cereals
A 1-cup serving of some ready-to-eat breakfast cereals may be fortified with as much as 1.5 milligrams of vitamin B-1 and 6 micrograms of vitamin B-12. This amount supplies more than double the 2.4-microgram recommended daily allowance of vitamin B-12 advised for all adults and over 100 percent of their vitamin B-1 requirement. Check the nutrition label carefully since different cereals are fortified with widely varying amounts of these vitamins.
Choose Veggie Burgers
Like fortified breakfast cereals, many commercial veggie burgers, including soy-based burgers, can serve as a good source of vitamins B-1 and B-12, particularly for vegans and strict vegetarians who may have difficulty consuming enough vitamin B-12 without animal-based products in their diet. According to the U.S. Department of Agriculture, the average commercial veggie or soy burger contains nearly 2 milligrams of vitamin B-1 and over 1 microgram of vitamin B-12, fulfilling all of an adult's B-1 needs per day and 58 percent of the B-12 recommendation. Certain brands might contain significantly more -- one commercial veggie burger, for example, contains almost 9 micrograms of vitamin B-12.
Pick Lean Pork
Pork is one of the richest natural sources of both vitamins B-1 and B-12. A single pork loin rib supplies 0.8 milligram of vitamin B-1 and approximately 1.25 micrograms of vitamin B-12. It's healthiest to choose lean cuts like tenderloin, loin roast or chops and 96-percent-lean ground pork that have less than 95 milligrams of cholesterol, 10 grams of total fat and 4.5 grams of saturated fat per serving. One boneless center-loin pork chop supplies 0.8 milligram of vitamin B-1 and 29 percent of an adult's vitamin B-12 requirement.
Try Lamb Liver
Lamb liver is an excellent source of all B vitamins but especially vitamin B-12: A 3-ounce serving contains 50 micrograms. Its 1 milligram of vitamin B-1 fulfills around 90 percent of the advised daily intake for both men and women. Enjoy lamb liver only occasionally and in moderation. Although it's low in fat and rich in a variety of nutrients, it's high in cholesterol, with 327 milligrams in every 3 ounces. In addition, lamb liver's concentration of vitamin A is so high that consuming it regularly may weaken your bones.