If your body lacks adequate iron or vitamin B-12 due to an imbalanced diet or to a medical condition that interferes with proper absorption, you are at a higher risk of developing anemia. This may be especially true for vegans and strict vegetarians since vitamin B-12 only occurs naturally in animal-based foods, and the form of iron in plants is not easily absorbed by the body. Eating plenty of natural or fortified foods high in both nutrients can help.
Consult your doctor if you're concerned about your iron or vitamin B-12 intake, or if you experience symptoms of anemia such as fatigue, weakness, pale or yellowish skin, dizziness or lightheadedness.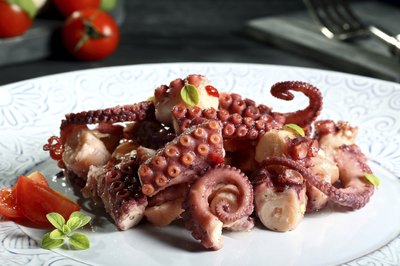 Fill Up on Shellfish
Shellfish that fall into the mollusk category, including oysters, mussels and octopus, are some of the richest natural sources of both iron and vitamin B-12. A 3-ounce serving of cooked Eastern oysters contains nearly 8 milligrams of iron, or almost 100 percent of the recommended dietary allowance for men and over 40 percent of the requirement for women. Each serving also contains approximately 15 micrograms of vitamin B-12, far more than the 2.4 micrograms per day advised for both men and women.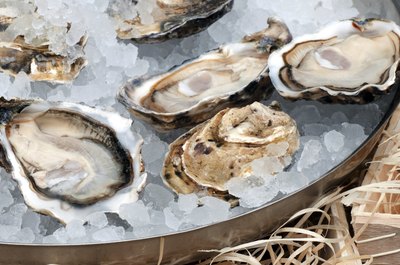 Look for Fortified Cereals
Individuals who consume little or no animal products can boost their iron and vitamin B-12 intake by regularly eating breakfast cereals fortified with both nutrients. Some ready-to-eat cereals may contain as much as 16 milligrams of iron and 1.7 micrograms of vitamin B-12 per serving, though check the nutrition labels carefully since not all brands contain both.
The iron contained in these cereals is nonheme, a form of iron your body does not readily absorb. Increase the amount absorbed by eating the cereal with a rich source of vitamin C, such as 100 percent orange juice or fresh berries. For the healthiest cereal, choose one that has 3 or more grams of fiber, less than 240 milligrams of sodium and less than 7 grams of sugar per serving.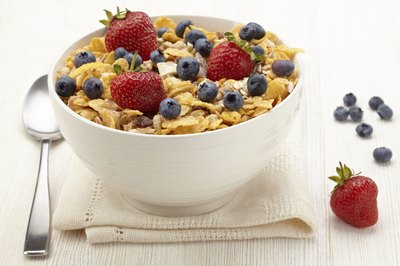 Give Game Meats a Try
According to nutrition specialist Dr. Melina Jampolis, wild game meats have fewer calories, less saturated fat and more heart-healthy polyunsaturated fats than commercial beef or pork. They're also rich sources of iron and vitamin B-12. Wild elk, deer or antelope meat contains around 5 milligrams of iron and approximately 4 micrograms of vitamin B-12 in a cooked 4-ounce serving. It's best to eat game meats in moderation since researchers don't yet know if, like red meat, a high intake can lead to cancer or heart disease.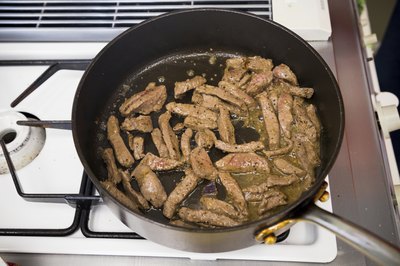 Stick With Lean Beef
Top round steak, porterhouse steak, brisket flat half, top sirloin roast and extra-lean ground beef all count as lean cuts of meat as defined by the U.S. Department of Agriculture, meaning that a 3-ounce serving of each contains less than 95 milligrams of cholesterol, 10 grams of total fat and 4.5 grams or less of saturated fat.
Eaten in moderation -- two 3-ounce servings weekly, suggests the Harvard School of Public Health -- lean beef cuts like these can help boost your vitamin B-12 and iron intake. Your best beef source is top round steak, with 3 milligrams of iron and 2 micrograms of vitamin B-12 in each 3-ounce serving.