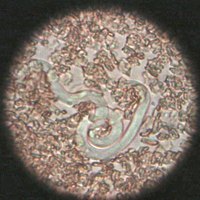 Even when kept in the cleanest of environments, dogs can still get infested with worms. Dogs and puppies can pick up worms from flea bites, mosquito bites or contact with an infected dog. The two most common worms are roundworms and tapeworms. Ask your vet if your dog needs heartworm treatment.
Types
There are over-the-counter worm medicine for dogs in liquid and chewable tablets. There are also prescription medications.
Considerations
Although over-the-counter worm medicines are available, you first need to take your dog and a stool sample to the vet to see what kind of worms are most present in your area and what kinds of medications your vet recommends.
Time Frame
Puppies and nursing bitches need deworming every 2 weeks starting at when the puppies are 2 weeks old until they are 2 months old. They only need a dose once a month until they are 6 months old; then they can go once or twice a year.
Heartworms
Heartworm preventative medicine needs to be given once a month, or whatever your veterinarian recommends. This medicine does not work if the dog already has heartworms.
Warning
It is very important to give worm medicine for dogs that is only meant for dogs. Giving them cat dewormers can get dogs very sick.