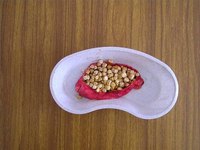 Gallstones are accumulations of crystallized substances in the gallbladder and its ducts. Most are made of cholesterol, but they may also be made from calcium or bilirubin. The gallbladder works with the liver to aid in the digestion of food.
Chronic Indigestion
This is often the first sign of gallstones, but indigestion can be caused by many different digestive ailments. Other symptoms, like pain in the upper right quadrant of the abdomen, are better indicators of gallstones.
Biliary Colic
The pain caused by a gallstone pushing against the gallbladder's cystic duct is caused "biliary colic." The pain can be severe, and it will be in the upper right quadrant of the abdomen. It may even extend as high as the shoulder, and it can be accompanied by nausea and vomiting, The pain subsides if the gallbladder manages to discharge the stone, usually in 30 to 90 minutes.
Acute Cholecystitis
Acute cholecystitis, or inflammation of the gallbladder, is caused by a longstanding gallstone impaction in the cystic duct. The gallbladder becomes swollen and distended. The pain is similar to biliary colic, but it does not resolve on its own. It frequently occurs at night, and is severe enough to wake the person from sleep. Patients may also develop an intolerance for fatty food, indigestion, bloating, and jaundice.
Infection
Acute cholecystitis can lead to infection of the gallbladder, causing a build-up of pus, decrease in function and abscesses. Untreated, advanced cases can cause the tissue of the gallbladder to die. Fever and persistent nausea can occur in addition to the other symptoms, and pain can be severe and constant.
Asymptomatic
Most small gallstones are asymptomatic, and they are naturally discharged by the gallbladder during normal digestive contractions, or they stay in the gallbladder as opposed to migrating into the ducts. These gallstones do not require treatment.