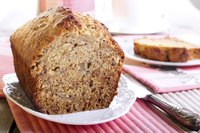 Molasses is made by boiling sugar cane or sugar beet into a thick, concentrated syrup. It's then added to various foods and drinks such as rye bread, cookies, rum and certain beers. Molasses also supplies several nutrients and might have certain health-protective benefits as well, making it a healthy addition to your diet when consumed in limited amounts.
Molasses: All the Basics
A serving of molasses, which is equal to 1 tablespoon, contains 58 calories and a negligible amount of fat. That same tablespoon also has about 15 grams of carbohydrates, which is mostly sugar. A serving of molasses doesn't contain any protein or dietary fiber.
Vitamin and Mineral Rundown
One tablespoon of molasses delivers 0.94 milligram of iron, a nutrient that helps your body make red blood cells and produce adequate amounts of energy. That amount translates to 12 percent of the 8 milligrams of iron men need daily and 5 percent of the 18 milligrams women need each day. You'll also get 293 milligrams of potassium, which is a mineral that promotes normal heart, muscle and skeletal functions. That's 6 percent of the 4,700 milligrams of potassium adults need each day. A tablespoon of molasses supplies 0.13 milligram of vitamin B-6, which is 10 percent of the 1.3 milligrams adults should have daily. Vitamin B-6 helps break down the protein you eat and helps your body make antibodies that fight off illness.
Molasses and Health Benefits
Molasses contains antioxidants that can fight off illnesses, such as cancer and heart disease, which can occur because of oxidative damage, according to a 2009 article published in the "Journal of the American Dietetic Association." In fact, molasses contains more antioxidants than refined sugar and sugar replacements such as honey, maple syrup, corn syrup and agave nectar. Blackstrap molasses in particular also contains high amounts of selenium, a mineral that can help fight cancer, nutrition expert Jonny Bowden notes in his book "The 150 Healthiest Foods on Earth."
Molasses in a Healthy Diet
Adding molasses to baked goods, most notably gingersnap cookies, is one of the most common ways people include molasses in their diets, but it's far from the only one. Use molasses to add a sweet flavor to marinades and stir-fry sauces. Glaze a fresh ham with a brush of molasses or add a small amount of it to homemade salad dressing. Adding molasses to a fruit smoothie, stirring it into your coffee in place of granulated sugar or drizzling it over a serving of low-fat plain yogurt are a few more simple ways to use it.