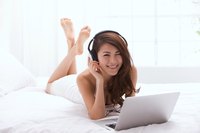 The Internet has become a part of daily life and a vast, new frontier for advertisers. It's a tricky landscape, though. On the Internet, you can get fast feedback on your ads and make tweaks with lightning speed. You can target your audience with incredible precision. These are good things. But there are downsides. The Internet is a realm saturated with ads that people routinely ignore. It's also a place of endless possibilities, where advertisers can find themselves overwhelmed by the choices available to them.
Pro: Fast Feedback and Flexibility
On the Internet, you can track the popularity of a new ad campaign almost in real-time. That gives you an amazing responsive power to correct mistakes quickly. You can tweak your ads minutes after they go up, or even scrap a whole campaign and replace it with an alternate one in a single morning. That's impossible in all other mass media, where you might get stuck with a dud campaign for days or weeks. If your company is the sort that likes a hands-on, seat-of-your-pants approach to advertising and values its responsiveness to customers and the public, Internet advertising is the way to go.
Con: Options Overload
The Internet offers many advertising options -- almost too many, because all of that choice can become paralyzing. You have to decide what types of ads to buy. Besides the many different shapes and sizes of banner ads, there are many rich media ad formats, including push-down, pop-up, inline, ribbon, rollover and floating ads, just to name a few. And that's only the tip of the iceberg. You also have to decide what sites to advertise on, which slots to buy ads for on a given site and how long your campaign will run. And that's not even touching the emerging world of social media advertising. The best ways to deal with options overload are to plan your campaign carefully right from the beginning, keep your goals in mind and avoid sweating the small stuff.
Pro: Precise Audience Targeting
Before the Internet, most human cultures were limited by geography, and niche communities tended to be small and numerous. That's a tough landscape for advertising niche products and services, and previously your best option was usually a specialty magazine. Now, however, geography is much less of a barrier, because people who share common interests can congregate together online -- and they do so in great numbers. These rich concentrations of people let you focus your advertising very precisely and efficiently. Do your research and figure out where your target audience spends its time online, then buy ads on those sites.
Con: Too Many Ads
You've seen it yourself. Ads are everywhere on the Internet. They can get to be so prolific that your prospective customers may well tune them out. Some people even go so far as to install ad blockers on their Web browsers to proactively stop ads from appearing on their screens. To people who aren't paying attention anymore, even your best-designed, best-targeted ads are worthless. This is a fact of life when it comes to Internet advertising, and there's not much you can do about it. In addition to precise market targeting, your best bet to deal with ad saturation is to buy ads on websites that have a good, clean layout and practice restraint when it comes to how many ads they'll allow on a given page.