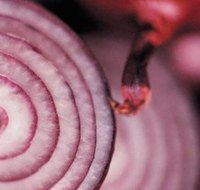 No kitchen is complete without a red onion. They may make you cry, but they're on your side when it comes to taste and health. Red onions can be used in so many recipes that you'll probably find yourself buying them regularly. Onions are full of nutrients that will give a boost to your health.
Blood-Sugar Level
The more red onion you eat, the lower your blood-sugar glucose levels will be. This is because of allyl propyl disulfide and chromium, both of which are are found in red onions.
Gastrointestinal Health
If you are looking to lower your chances of colon cancer and related diseases, add red onions to your diet at least twice a week. Quercitin, one of the flavinoids found in onions, is known to be very beneficial to gastrointestinal health.
Bones
A study in the Journal of Agricultural and Food Chemistry found that red onions are also beneficial to overall bone health. A compound known as GPCS is responsible for this, and it does so by inhibiting cells that break down bones.
Antiinflammatory
Red onions reduce inflammation in the bones and throat, as well as in blood vessels. This reduces many of the symptoms of osteoporosis, asthma and even the common cold.
Cardiovascular Health
The chromium and vitamin B6 found in onions helps to increase cardiovascular health. Specifically, these compounds lower blood pressure and cholesterol.