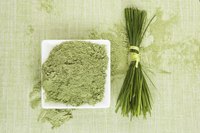 Just 1 tablespoon of dried spirulina provides you with more than 10 percent of the daily value for thiamine, riboflavin, iron and copper, as well as 4 grams of protein, making it a relatively nutrient-dense food. Although spirulina is generally recognized as safe in the amounts typically used in foods, there is a small chance it may contain contaminants or interact with certain medications. Speak with your doctor before taking these supplements as they may not be safe for people with certain health conditions.
Potential for Heavy Metal Contamination
If spirulina is grown in waters contaminated with toxic metals, such as mercury or lead, it will absorb these metals. This isn't as much of an issue, however, if you buy your spirulina from a reputable brand in the United States. Spirulina sold in the United States is mainly produced in laboratories rather than harvested from areas where it grows naturally.
Other Potential Contaminants
Some types of spirulina may contain toxic substances called microcystins and anatoxins, according to the New York University Langone Medical Center. In the United States, only one type of spirulina, called Arthrospira platensis, can be used as a food. Even this type of spirulina grown in a laboratory may be contaminated with small amounts of microcystins, however. A study by the Oregon Department of Agriculture published in 2000 found that all 15 samples of spirulina supplements tested contained small amounts of these substances, but at levels that were below the threshold of what is allowed in foods. Spirulina can also be contaminated with bacteria if it's grown using fertilizers containing animal waste. Look for products that have been tested and found not to contain these types of contamination, recommends MedlinePlus.
Potential Medication Interactions
It isn't clear whether spirulina interacts with any medications, but it may interfere with medications meant to suppress the immune system, according to MedlinePlus. It may also interact with drugs meant to slow blood clotting, potentially increasing their effects and making excessive bleeding more likely.
When to Avoid Spirulina
Pregnant women should play it safe and avoid using spirulina because it hasn't been proved safe during pregnancy. Because spirulina contains the amino acid phenylalanine, those with phenylketonuria should also stay away from spirulina supplements. Spirulina may affect your immune system and thus make autoimmune conditions, including lupus, multiple sclerosis and rheumatoid arthritis, worse, notes the University of Maryland Medical Center. In addition, people on dialysis and those with compromised immune function should avoid spirulina.