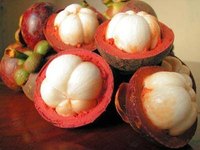 Mangosteen, also known as the Queen of Fruits, is one of the world's superfoods. Mangosteens are incredibly rich in antioxidants and a number of other vitamins and minerals. In the United States, mangostene fruits are not readily found because of a past ban of the product (aimed at keeping out the Asian fruit fly), but its juice is easily found as a dietary supplement. By incorporating this fruit into your diet in some way, you will be adding a host of health benefits to your plate.
Fiber
Mangosteen rinds are full of dietary fiber. This helps to relieve constipation and also helps cure diarrhea.
Antioxidants
Few foods are able to top mangosteen in their amount of antioxidants. These compounds help to fight off free radicals and protect cells from oxidative damage that could cause cancer.
Anti-inflammatory
Mangosteen contains important compounds called xanthones. These help to reduce inflammation in both joints and bones as well as the skin.
Fungus
The xanthones in mangosteen have another important property as well. They help to protect the body from dangerous or harmful fungal invasions.
Gums
Eating mangosteen or drinking the juice of this fruit puts many of its nutrients directly into the mouth. This is how the fruit is able to prevent and treat gum disease.