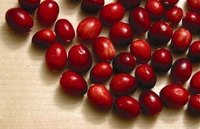 Cranberries are cousins to the blueberry, a fruit that is high in antioxidants and other health benefits. It's no wonder, then, why cranberries have long been known to be a healthy fruit. These red, tart berries are great when eaten fresh, or when drinking their juice. Not only do they have antioxidant powers, but they're helpful and healthful in many other ways.
Urinary Tract Infection
For hundreds of years, cranberries have been known to be a great food for treating urinary tract infections. These berries have hippuric acid, a strong antibacterial that helps keep off infection.
Antiviral
The berry's hippuric acid is good for more than just treating urinary tract infections. It is also a potent antiviral, able to fend off numerous species of virus.
Kidney Stones
Cranberry juice is helpful in preventing kidney stones because of its quinic acid content. This compound is not broken down in the body, so it makes urine slightly acidic, allowing it to break down kidney stone formation.
Cholesterol
Drinking cranberry juice or eating cranberries on a daily basis has been shown to help lower total cholesterol, and especially LDL cholesterol, the bad kind. Lowering cholesterol helps in preventing heart disease.
Antioxidants
Cranberries have a high level of phytochemical antioxidants, nearly five times as many as broccoli. These antioxidants help to prevent oxidative damage caused by free radicals, which can cause cell and DNA damage.